In-House Specialty Services: The Wellness Advantage
Embracing a New Era of Comprehensive Care
At our senior living community, we are proud to redefine the traditional concept of assisted living by offering an innovative approach that goes beyond standard care. We believe in providing wrap-around services that set us apart from other senior living providers. Our commitment to holistic well-being and proactive healthcare has led to a significant reduction in hospitalizations and has transformed our community into a true aging-in-place destination.
We have forged partnerships with major local healthcare systems to bring a range of specialized services directly to our residents. This integration of a clinic within our assisted living community sets us apart and demonstrates our dedication to meeting the unique needs of our residents.
Imagine having a cardiologist who visits regularly to provide specialized care to residents with heart challenges. Picture a nephrologist offering comprehensive medical management, an eye doctor ensuring optimal vision, a dental hygienist promoting oral health, and a primary care physician overseeing overall wellness. We also prioritize mental health with a psychiatrist and counseling services, recognizing the importance of emotional well-being.
Our commitment to comprehensive care extends beyond medical professionals. We can draw labs and send draws off to the lab quickly, allowing for quick and convenient access to necessary diagnostic tests. We have partnered with diagnostic imaging centers to bring x-rays and ultrasounds directly to our community, minimizing the need for external appointments. Additionally, we have a dedicated home health rehab agency, providing on-site physical and occupational therapies.
Through these strategic community relationships and a focus on preventative care and oversight, we have achieved remarkable outcomes. Our residents experience true aging in place, as they feel a sense of belonging and receive top-notch care within our community. Our dedicated teams have become like family, fostering deep connections and ensuring that our residents thrive in every aspect of their lives.
We are proud to outperform our counterparts in terms of care, retention, reduced hospitalizations, and overall resident health. Our commitment to keeping residents at their best is unwavering, and we are constantly exploring new ways to enhance their well-being.
Experience a new era of assisted living, where comprehensive care and proactive healthcare are the pillars of our community. Join us in embracing a reimagined approach to senior living that prioritizes the long-term well-being and happiness of every resident.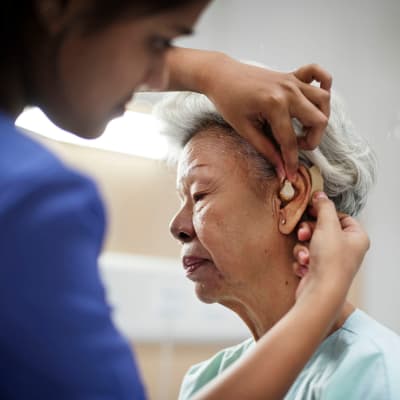 Expert Care
Our expert nurses provide clinical oversight of blood sugars, insulin injections, vitamin B injections, lab work, keeping the many primary care doctors informed, and consulting with them for care services. Our nurses also consult with caregivers, provide support for caregiving needs, watch for changes in a resident's normal condition, and write personalized care plans and adjust the plan as conditions change.
Our Wellness Advantage is expansive in comparison to traditional senior living settings that cater to amenities over care. We put care first and foremost, as one does not leave the comforts of home without a good reason to do so. Our Director of Nursing's expertise provides unmatched service: she sets residents up for success and is honest with families and residents about expectations and services available. We are committed to honest and direct communication, as your loved one deserves that.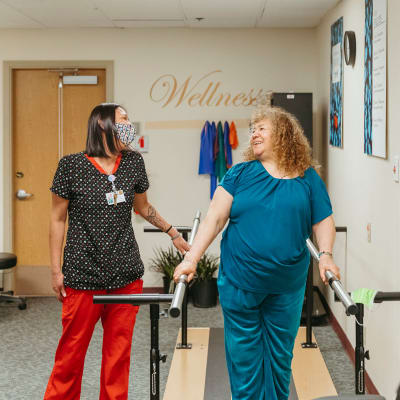 Licensed Nursing
Our on-site licensed nursing staff oversees resident care on a regular basis. Our residents quickly move from a clinical progress note to a loved one in our hearts. We notice changes in condition and consult with medical doctors, our team, and engaged loved ones to set our residents up on the best care path. Our Wellness Team has fostered community partnerships to bring in dental hygienists, home health agencies with a PT/OT office onsite, regular podiatry appointments, regular primary care doctor visits, nurse practitioners onsite, daily pharmacy deliveries, and strong partnerships with our two local hospital systems for better patient care. We are also now partnered with Optum, so those individuals who qualify can gain extra support and money for medical procedures and supplies.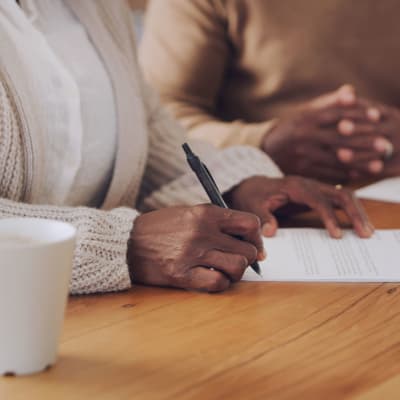 Admissions Review
Our goal is to provide your loved one with the best care available, and this commitment guides our Admissions Department at every step.
While amenities and facilities are important considerations, the ultimate focus should always be on providing the best possible care. That's why our expert Admissions Department is dedicated to ensuring that we can honor your loved one with the highest level of care they deserve.
Our admissions process begins with a commitment to honesty and transparency. We believe in open communication and will truthfully guide you through every step of the journey. If, after careful evaluation, we determine that our community is not the most appropriate environment for your loved one's specific needs, we will provide you with alternative options and help you explore different paths that may be more suitable.
On the other hand, if our assessment indicates that our community can indeed meet the unique requirements of your loved one, we will proceed with creating a comprehensive and personalized care plan. Our team will conduct an extensive evaluation to gain a deep understanding of your loved one's individual needs, preferences, and aspirations. This assessment serves as the foundation for developing a tailored care plan that addresses every aspect of their well-being.
Choose a senior living community where the well-being and care of your loved one are the top priorities. Trust our expert Admissions Department to guide you through the process, provide honest guidance, and create a personalized care plan that honors your loved one's journey. Experience the peace of mind that comes from knowing your loved one is in capable and compassionate hands.