Horticulture and Pet Therapy
Natural Healing
Embrace the Healing Power of Nature
At our senior living community, we recognize and embrace the profound impact that nature can have on our overall well-being, which is why residents have created a robust garden, growing their own herbs and vegetables. Numerous studies have confirmed that immersing ourselves in the beauty of the natural world can be one of the most effective and uplifting forms of therapy. That's why we prioritize creating opportunities for our residents to connect with nature and experience its rejuvenating effects.
We understand that the connection with nature goes beyond aesthetics. It nurtures our souls, brings us a sense of calm, and stimulates our senses. That's why we encourage our residents to embrace the healing power of nature, whether it's through gardening, outdoor activities, or simply taking a moment to appreciate the beauty that surrounds us.
Join us in cultivating a deep appreciation for the wonders of the natural world. Experience the joy, serenity, and therapeutic benefits that come from immersing yourself in nature. At our community, we celebrate the profound impact that nature can have on our happiness and well-being.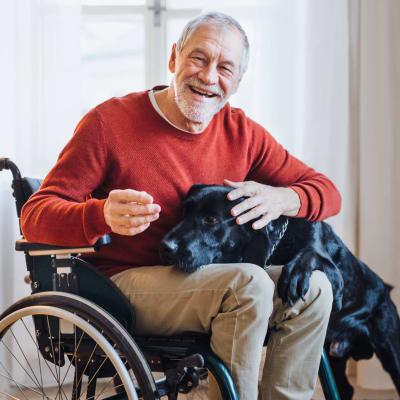 Pet Therapy
In our modern society, where emotional contact can sometimes feel distant, one truth remains unchanged: dogs are truly our best friends, providing us with unconditional love and companionship. At our community, we recognize the incredible value of animals in promoting emotional well-being, and we warmly welcome them into our midst. Please download our Pet Policy here.
We are fortunate to have lovely community dogs that regularly visit our residents, bringing smiles and wagging tails wherever they go. But it doesn't stop there. We believe in the power of diverse animal interactions, which is why we have also welcomed other charming guests into our hallways. From goats and sheep to miniature ponies and rabbits, our community has been graced by the presence of a wide variety of animals. Each unique encounter offers its own special form of therapy and connection.
We understand that touch is a vital aspect of human connection and emotional well-being. While we always respect individual preferences and personal boundaries, we encourage our residents to experience the love and comfort that animals provide. There's nothing quite like the sensation of running your hands through silky fur or feeling the warmth of a pet as they soak up your affection in return. The bond formed between humans and animals is truly remarkable and can offer incredible therapeutic benefits.