Purposeful Activities
At Peoples Senior Living, we understand the importance of community and the deep need for meaningful connections as we age. We believe that a true sense of belonging and a newfound family can make all the difference in one's happiness and well-being.
We've witnessed firsthand the journey of a resident who initially chose to move back to her daughter's house, hoping to find greater engagement and companionship. However, after five months, she realized that her daughter had her own life to lead and couldn't fully understand the depth of her loneliness. That's when she made the decision to return to our community she once called home.
As soon as she arrived, her heart led her to seek out her best friend, the person with whom she had shared countless memories and cherished moments. With tears of joy streaming down her face, she embraced her best friend tightly, expressing how much she had missed her during her time away.
Within our community, we cultivate an atmosphere of togetherness, where residents can form deep and lasting friendships. Through engaging activities, shared experiences, and a supportive network of staff and fellow residents, we strive to create an inclusive and vibrant community that becomes a home in every sense of the word.
Come and experience the transformative power of our community, where we create not just a place to live, but a place to call home—a place where you can find a newfound family to share life's journey with.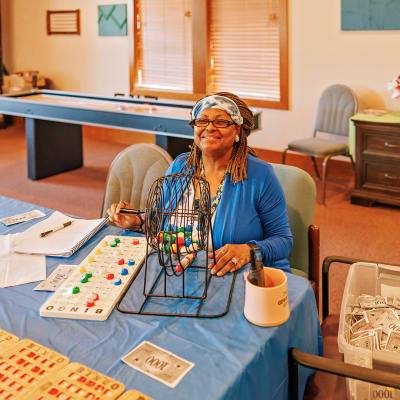 Gaining Independence
At Peoples Senior Living, we recognize that our residents are not just a collection of medical data, but unique individuals with hearts, emotions, and a desire for independence. We go beyond the realm of lab work and blood sugars to provide holistic care that addresses the whole person, nurturing their emotional and spiritual well-being alongside their physical health.
When residents first join our community, it is not uncommon for them to experience a sense of loss—a feeling of youth and vitality slipping away, the relinquishment of a cherished home, the absence of a beloved spouse or pet. However, within 30-60 days, we witness a remarkable transformation. They begin to realize what they have truly gained: newfound independence.
With our comprehensive range of in-house services, residents can bid farewell to the stress of frequent appointments. We bring the necessary healthcare professionals and specialists right to their doorstep, sparing them the burdensome task of venturing out. No longer do they have to anxiously await a phone call from a friend; they can simply knock on a neighbor's door and forge meaningful connections. Loneliness dissipates as they join their friends for movie nights and popcorn in our second-floor cinema, sharing laughter and camaraderie.
We recognize that aging in America comes with its challenges, but at Peoples Senior Living, we are committed to providing all the necessary tools and support to help our residents navigate this stage of life with grace and dignity. We value the trust placed in us by families who entrust the care of their loved ones to our dedicated team.
Join us at Peoples Senior Living, where independence is not only gained but celebrated, where residents receive exceptional care and forge meaningful connections that enhance their overall well-being. Together, we create a community that honors and cherishes the individuals who call it home.
Inclusive Events
We foster purposeful living, creating an environment where every resident has the opportunity to engage with the community, discover new talents, and form meaningful relationships. Our calendar is just the beginning—a starting point for exploration and connection. We invite you to join us for Family Night, a special occasion where residents and their loved ones come together, bridging generations and sharing cherished moments.
We encourage you to share your talents, skills, and passions with our residents, enriching their lives and expanding the tapestry of experiences within our community. The joy of living at Peoples is not confined to a single event or activity—it is an ongoing celebration of life, a tapestry woven by the shared stories, laughter, and genuine connections of our residents.
Explore our calendar, immerse yourself in the vibrant tapestry of community life, and witness firsthand the countless moments of joy, connection, and purpose that thrive at Peoples Senior Living. Together, let us embrace the fullness of life and create lasting memories that will be cherished by all who call this community home.