Purposeful Activities
Not long ago, we had a resident move back to her daughter's house, as she thought this would provide superior engagement. Five months later she realized her daughter had her own life to live, and didn't understand her loneliness. She then moved back in to Cascade Park Vista, and first thing she did was hunt down her best friend, throw her arms around her, and tell her she missed her greatly.
At Cascade Park Vista Assisted Living, we create community and newfound family.
Gaining Independence
It's not just about lab work, blood sugars, and base line. It's about the person – not just noticing, but anticipating needs. We are more than just chemistry; we are humans with hearts and emotions that also need to be addressed.
Typically, when one first moves in here they feel a great sense of loss: loss of youth and vitality. Loss of a house, loss of a spouse, loss of a pet. After 30-60 days we see the change; they realize what they have truly gained: independence. No longer do they need the stress of going out for a plethora of appointments, as we provide many of these in-house. No longer do they need to sit by the phone waiting for a friend's call. They can knock on a neighbor's door. No longer do they need to go to a movie alone and feel that loneliness. They can walk to our second-floor cinema and attend movie and popcorn night with friends – people who know them.
Our residents receive top-tier care with us, but they also have the emotional and spiritual support of other friends and our thriving activity programming. We focus daily on body movement, socialization, laughter, and mindfulness. Aging in America isn't easy, but we bring all the tools available to honor our residents and gain the trust of families who allow us to care for their loved ones.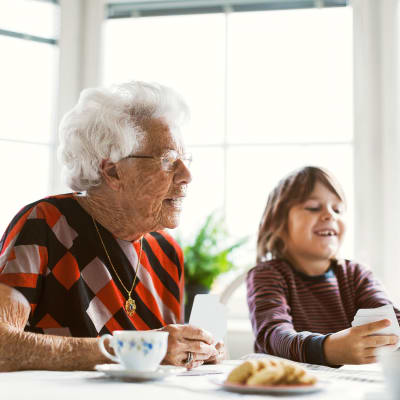 Inclusive Events
While we provide an outline of activities in our monthly calendar, so much more goes on than just 3 o'clock bingo or Wednesday shopping trips.
It's in the coffee social where two residents foster a spark of interest, finding a common storyline and become friends who now go on daily walks together. It's in the dance where two residents fall in love and look out for each other. It's purposeful living that senior living at Cascade Park Vista provides.
Check out our calendar. Come to Family Night. Share your talents with our residents. Engage yourself with our community and realize there is so much life lived at the Vista.