Purposeful Activities
We had a resident move in who was on some heavy antipsychotic medications to control dementia struggles – this had occurred because she had been thrown out of another local memory care due to striking another individual and now she was in desperate conditions, needing to find a new home, to find a community that would take a risk – a risk on a human being, on a mother, grandmother, friend, wife. No one wants to talk about the pain and agony of a loved one who is lost in the darkness. The husband was at a complete loss, pressured by hospital discharge planners to find a place but everywhere he turned he got the same message: NO. She had struck another. She was a lost cause.
Our expert admissions department took a look at her case, read hundreds of pages on her, consulted our expert team of nurses, and make some recommendations to the hospital to control her pain levels that we felt she couldn't properly communicate and to take some x-rays of her back. Our suggestions worked like magic and fixed a fair amount of her problems.
She wasn't the problem. Her dementia symptoms were, she just needed basic needs addressed. After 90 days with us she was successfully removed from all antipsychotic and her personality came back – she was a joyful woman with lots of life to give!
We create community and newfound family. We cry with you in your pain and loss. We understand this disease is gut-wrenching for the families making the decision to move in a loved one.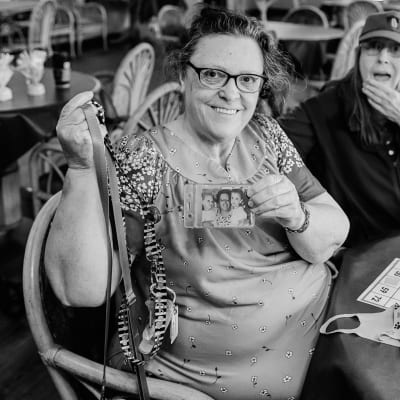 Gaining Independence
It's not just about lab work, blood sugars, and base line. It's about the person. Not just noticing but anticipating needs. We are more than just chemistry; we are humans with hearts and emotions that also need to be addressed.
Our biggest recommendation for moving a loved one into memory care: they will be fine. It's YOU, the one left with memories intact, that we're worried about. Short term memory loss is a gift in its own right, but the primary caregiver who made the decision to place a loved one is the most likely to have catastrophic health crisis hit after placing a loved one in memory care. It's time to set up your own support of therapists, doctors, friends to help you transition to the next phase.
Our residents receive top tier care with us, but they also have the emotional and spiritual support of other friends and our thriving activity programming. Daily we focus on body movement, socialization, laughter, and bringing back happy long-term memories still intact. What was your first car you drove? Your first kiss? Your first home away from parents? Those memories can illicit warm emotions which is always our goal. Aging in America isn't easy, but we bring all that is available as tools to honor our residents and gain the trust of families who allow us to care for their loved ones.
Inclusive Events
While we have an outline of activities in our monthly calendar, so much more goes on than 3 pm bingo, 10 am coffee and reminisce or music hour. It's in the coffee social where two residents foster a spark of interest, finding a common storyline and become friends who now go on daily walks together. It's in the dance where a housekeeper, mopping the floor, can get residents up and dancing with her.
Check out our calendar. Come to Family Night. Share your talents with our residents. Engage yourself with our population and love on our residents with us.