Therapies
We are more than just the bullet points you see below, but here we hope you'll find some answers to what is included in our basic rates; additional answers to frequently asked questions can be found on our FAQs page. We provide these services as an unobtrusive friend to ensure your basic needs are met. We are there when you need us, and remain in the background when you don't.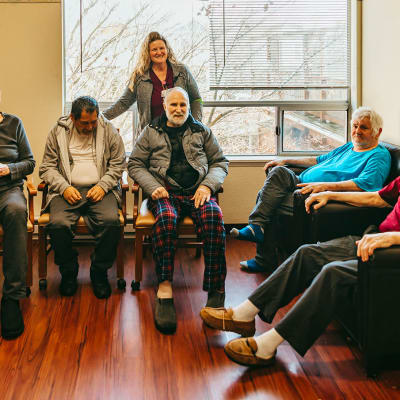 Daily Program Activities
We hope to gain your trust, as we realize there is no greater gift than that, to gain your trust in caring for you, your mom, dad, spouse, grandparent, loved one.
Daily programming is centered around group socialization and therapies, and during the group therapies, restorative aides will pull out individuals to work 1:1 on what the PT or OT has designed for them.
We provide heavy clinical care if necessary, from hoyers to feeding tubes in certain programs. Other programs are catered for dementia, Traumatic Brain injuries, and one program is for traditional individuals who do not need heavy nursing services or specialty programming care.
We run 4 unique programs: 2 in the mornings, 2 in the afternoons, lasting 4 hours each.
If a person attends the morning program, lunch is included. If they attend afternoon program, dinner is included.
Daily program activities include live entertainment, therapeutic activities, educational group discussions, physical and occupational therapies, bingo, arts and crafts, daily exercise, and more. Each activity has a targeted therapeutic goal, all is purposeful in what we do. We coordinate the care plan of each person with attendee's family, Physician, and PT/OT team.
Costs
The costs of Adult Day may be covered in full or in part by Medicaid (DSHS, the Veterans Administration (VA), Developmental Disability Administration (DDA), the Respite Access Program, or the Senior Citizens Services Act (SCSA). Private Pay rates start at $25/hour with potential reductions based on financial hardship. Here is our current rate sheet, subject to change without notice.Come talk to us, we want to help if we can!