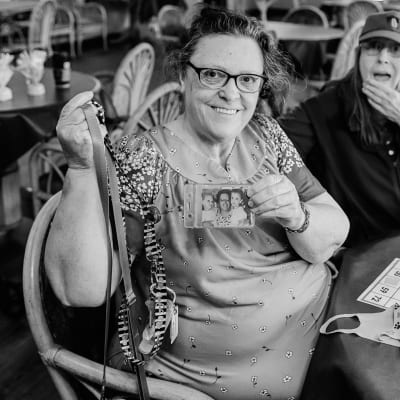 It's not just about lab work, blood sugars, and base line. It's about the person. Not just noticing but anticipating needs. We are more than just chemistry; we are humans with hearts and emotions that also need to be addressed.
Our end goal is to improve or maintain your current cognitive + physical abilities. Every activity has a targeted therapeutic purpose goal. Art class? Stimulates the mind and focuses on fine motor skills. Bean bag or balloon toss? Eye/hand coordination, lifting arms up to anticipate, forcing the brain to work and expect. One-on-One therapies may focus on helping someone stand up or sit down with strength and ease, or perhaps fix a dragging foot that may cause the person to fall.
We start our day with a coffee social to get everyone settled in, then move directly into a group exercise. Staff walk around the room to help a client find the right exercise that fits their abilities.
Our residents receive top-tier care with us, but they also have the emotional and spiritual support of other friends and our thriving activity programming. Daily we focus on body movement, socialization, laughter, and bringing back happy long-term memories still intact. What was your first car you drove? Your first kiss? Your first home away from parents? Those memories can illicit warm emotions which is always our goal. Aging in America isn't easy, but we bring all that is available as tools to honor our residents and gain the trust of families who allow us to care for their loved ones.
Inclusive Events
Check out our calendar. Engage yourself with our community and realize there is so much life lived at Cascade Park Adult Day Health.